We are proudly a digital partner for startups & enterprises that strive for innovation. Each of our projects not only meets client needs, but it exceeds expectations to overall develop new opportunities for businesses. Our vision is to become a pioneer in digital strategy, consultation, and implementation in industry 4.0 while staying true to our core values. We believe that our attitude and approach is what brings success with clients, and we should challenge ourselves to be constantly learning alongside teammates. We are honored that our commitment to clients is reflected in positive feedback on Clutch and allows us to be distinguished as a Top Mobile App Developer in Montreal!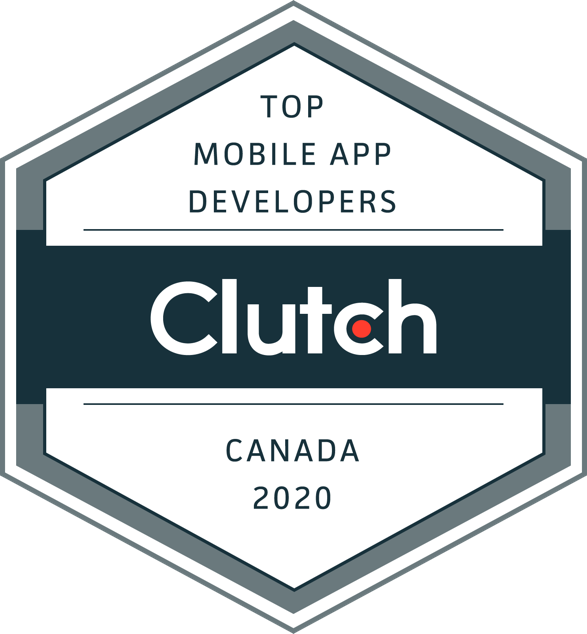 Clutch is a B2B platform for tens of thousands of business ratings and reviews. Businesses can browse their robust directories of company rankings in the face of a challenge to find the best-fit solutions provider. Clutch analysts evaluate industry data, brand reputation and most importantly, client testimonials to craft authentic profiles on a company's expertise and ability to deliver. Analysts conduct phone and online interviews to gather verified information on a company's performance.
Based on this data, leading performers such as RootQuotient are then recognized in an awards series. The highest market performers are plotted on our leaders' matrix which identifies a company's ability to deliver and focus, or specialization. Check out RootQuotient's impressive placement below!

We could not have received this distinction without the feedback from our clients. Most recently, an online review was curated from the experience of Prime Marketing with our development services. RootQuotient created a story sharing and streaming app, compatible with both iOS and Android. Prime Marketing says the functionality of our solution is fantastic, and when there were troubles along the way, we troubleshooted and adapted well. Check out a summary of the perfect 5.0 Star review below!

RootQuotient is honored to be recognized as a leading mobile app developer, and it inspires us to continue delivering the best services possible to clients. Just listen to our CEO:
"We are pleased to receive back-to-back awards from Clutch in 2020. This definitely motivates to make bigger impacts in the tech industry."


– Raj, CEO, RootQuotient
We love what we do, and we'd be delighted to make your project a success. Contact us today!